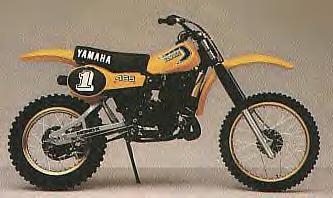 1981 Yamaha YZ 465
The way they should've kept it.
Power: The new Yamaha 465 engine chugged strongly down in the low-end and then bellered very strongly into arm yanking mid-range power! The engine didn't deliver a whole bunch of power in the upper RPM's. A notchy shifting 5-speed transmission was mated to the engine. This helped maked the Yammie Open Classer a versatile big bore bike.
Suspension: The bikes forks performed fairly well. Fast riders noted there wasn't as much fork flex as the '80 model. The rear "monoshock" was never known to be real supple. However, it would soak up heavy hits very well. The rear monoshock offered more adjustment possibilities over the '80 model.
Handling: "Kinda' squirelly", was how some folks described the 465's handling. The bike was a good turn carver and was stable at high speeds. But, its weight bias tended to make the machine very easy to wheelie. This, combined with a rear suspension that hopped around while braking into rough corners, made the big YZ "interesting" to ride at times.
Reliability: Overall, the bike was fairly reliable. Exahust mounts tended to break easily.
Odds & Ends: The YZ 465 vibrated a lot, and it seemed to take forever for the engine to warm up so it would run cleanly. This was one of the first Japanese Open Class bikes that gave the King of Open Class machines, Maico, something to compete against. A used YZ 465 in good condition makes a dandy trail